Cold Apps
Hot Apps
Salads and Bowls
Manakeesh
Entrees
Grills
Shareable Platters
Sides and Extras
Desserts
Cold Drinks
Hot Drinks
Cold Apps
Hot Apps
Salads and Bowls
Manakeesh
Entrees
Grills
Shareable Platters
Sides and Extras
Desserts
Cold Drinks
Hot Drinks
Cold Apps
Dip Platter
Hummus, Bummus, Baba Ganoush and House Labneh. Served with 2 Samoon breads.
Classic Hummus
Chickpeas, tahini, lemon juice and olive oil
Baba Ganoush
Charcoal grilled eggplants, tahini, yogurt and lemon juice
House Labneh
Strained yogurt, olive oil and dry oregano
Pickles & Olives
House pickles and charmoula olives
Makdoos
Baby eggplant stuffed with roasted walnut and Turkish chilli
Muhammara
Roasted walnut, harissa paste, cumin, extra virgin olive oil and pomegranate molasses
Roasted Red Pepers Hummus
Roasted red peppers spicy hummus
Hot Apps
Chicken Musakan Rolls (5psc)
Roasted chicken wrapped in Saj bread, stuffed with sautéed onions and pomegranate molasses.
Hummus w/ Chicken
Classic Hummus topped with braised chicken and cashew nuts. Served with 1 samoon bread
Hummus + Brisket
Classic Hummus topped with braised beef brisket & preserved lemon. Served with one samoon bread
Batata Harra
Potatoes, coriander, garlic, chilli and lemon.
Falafel (6psc)
Freshly made in-house chickpea Falafels, served with tahini sauce and 1 samoon bread
Arabic Sausage
Mini sausages sautéed with tomatoe, onion, garlic sauce and olive oil. Served with one samoon bread
Fried Cauliflower
Cauliflower, sumac, yogurt tahini sauce, lemon vinaigrette
Foul Moudamas
Favs beans, tahini, olive oil & spices. Served with one samoon bread
Salads and Bowls
East Tea Can Tabbouleh
Parsley, mint, cucumber, tomatoes, sweet onions, pomegranate, green lentils and lemon vinaigrette.
Fattoush
Lettuce, tomatoes, spanish red onion, cucumbers, wild oregano, watermelon radish, sumac vinaigrette and pita chips.
Shish Tawook Bowl
Pearl couscous, chicken shish tawook, hummus, chickpeas, broad beans, tomatoes, cucumber, cilantro, mint, kalamata and lemon dressing.
Falafel Bowl
East Tea Can rice, Bummus, falafel, lettuce, tomatoes, cucumber, watermelon radish, red onion, pomegranate seeds, sumac dressing, crispy pita and tahini sauce.
Eggplant Salad
Tomato, Cucumber, Turkish Red Chilli, Red Onion, Tahini Yogurt Dressing
Watermelon & Shanklish Salad
Watercress, iceberg, arugula, fresh oregano, cucumber, tomato, summer watermelon, hazelnut saffron vinaigrette
Sujouk Brochette Bowl
Grilled Arabic sausages, mixed leaves, tomato, cucumber, red onion, sea salt and herb, roasted potatoes, green olives, saffron mayo with lemon and mint vinaigrette
Manakeesh
Laham B Ajine (Ground Beef)
Ground spiced beef.
Akkawi Cheese
Akkawi cheese and extra virgin oil. Topped with Sumac.
Zatar
A mix of dried thyme, toasted sesame seeds, sumac and olive oil.
Three Cheese & Herbs
Akkawi cheese, mozzarella, feta cheese, onions and parsley.
Entrees
Chicken Escaloup
Pan fried breaded chicken, creamy mushroom sauce, sea salt and za'atar fries, seasonal house salad
Grills
Shish Tawook
Chicken breast cubes, marinated with yogurt, lemon juice and house spice mix. Served with pickles, garlic sauce and one pieces of Samoon bread.
Iraqi Kabab
A mix of ground beef & lamb seasoned with house slice mix. Served with pickles, Tahini sauce and one pieces of Samoon bread.
Signature Saffron Chicken
Charcoal grilled saffron marinated chicken breast pieces.
Extra Spicy Red Tawook Skewer
Shareable Platters
Grill Platter For 2
1 Shish Tawook, 1 Iraqi Kabab, 1 Sujuk Kabab and 1 Chicken Kabab. Served with Vermicelli Rice, French fries, grilled tomatoes and onions, pickles, garlic & tahini sauce and 2 pieces of Samoon bread.
Family Grills Platter
2 Shish Tawook 2 Iraqi Kabab 2 Chicken Kabab 2 Sujuk Kabab 2 Saffroni Chicken Skewers w grilled veggies, Rice, French Fries, pickles & chilli peppers, garlic sauce & tahini sauce & 4 pieces of bread
Sides and Extras
Freshly Baked Samoon Bread
House Salad
Chickpeas, cabbage, iceberg lettuce and dill served with house dressing
Desserts
Cheese Kunafa
Fried vermicelli above a bed of cheese, covered with a sweet rose water syrup and Iranian Pistachios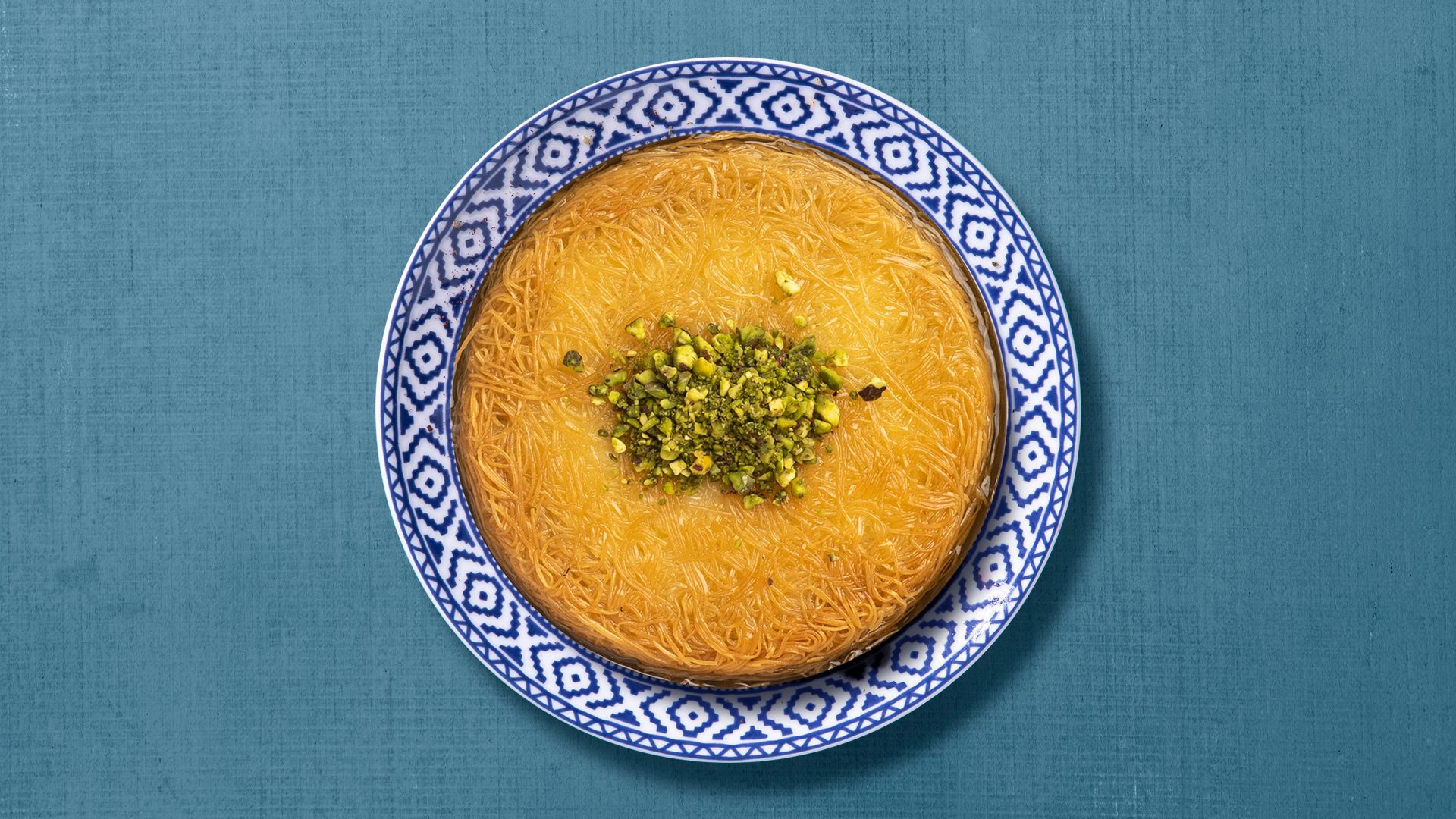 Orange Blossom Muhalabia
Milk pudding with rose water and pistachios
Cold Drinks
Apple Mint Ginger Lemonade
Your Pickup Order
Pickup at 3115 Winston Churchill Boulevard
Order Now
---
Your cart is empty.
Add items to get started
---
Contactless Pickup